CWEIC holds 'Better Business for Better World' event in Mercers' Hall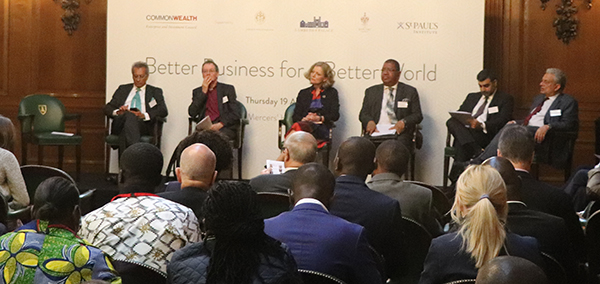 As part of events taking place around the 2018 Commonwealth Business Forum, CWEIC convened a panel discussion on 19th April to give delegates the opportunity to discuss in detail one of the major themes of the Forum; how to ensure business is oriented towards good ends and social benefit, as an integral part of long-term profitability. Held in Mercers' Hall in the City of London, the event was supported by the Amersi Foundation, Lambeth Palace and the St Paul's Institute with speakers including leaders in business, faith and social enterprise.
Themes discussed during the highly interactive event included how businesses can gain public trust, what role faith might have in providing ethical direction for businesses and the importance of sustainable business practices that safeguard the environment. Also highlighted was the importance of embracing, rather than simply tolerating, every individual within a diverse modern workforce, regardless of religion, ethnicity, sexuality or otherwise. This was very pertinent, as the Commonwealth's extraordinary diversity is often highlighted as something that should be a point of celebration, rather than division.
The level of interactivity with the audience – representing a range of different sectors and countries – was one of the event's particular strengths. Audience members played a key role in discussing the aforementioned themes, alongside further points concerning inclusive capital, ethical investing, the fight against modern slavery, and the need to work with Commonwealth governments to remove legislation that criminalises people for their sexuality.
Speakers included Mohamed Amersi, Founder of Inclusive Ventures Group, Dr Farhan Nizami, Director of the Oxford Centre for Islamic Studies, Barend Petersen, Executive Chairman of De Beers Consolidated Mines, Emma Howard Boyd, Chair of the Environment Agency, Alderman Peter Estlin, Senior Advisor to Barclays Bank, Omar Shaikh of the Islamic Finance Council UK and Richard Burge, Chief Executive of CWEIC.
Participants will now consider how best to move the discussion forward to a refined set of deliverable action points.
---