De La Rue opens new Product Authentication facility securing a strong future for Malta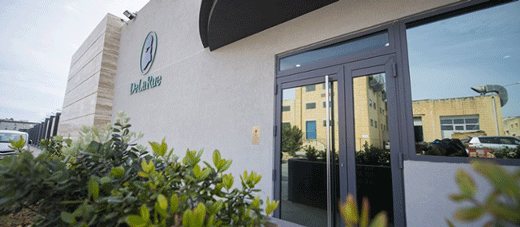 CWEIC Strategic Partners De La Rue are going from strength to strength in Malta after a new product authentication facility was opened on the island last month by Maltese Prime Minister Hon. Dr Joseph Muscat. The new facility will produce tax stamps, authentication and brand protection products, including brand protection labels for Microsoft, one the world's most famous brands.
De La Rue's Malta factory which employs 567 staff, is a centre of excellence across all three of its portfolio areas – Currency, Identity and Brand protection. The new facility marks the completion of the 27 million Euro investment that was started two years ago. At the facility's opening, The Hon. Prime Minister Dr Joseph Muscat was joined by the Hon. Minister for the Economy, Investment and Small Business, Chris Cardona, De La Rue International's Chief Operating Officer Bryan Gray and De La Rue Malta Director Edward Chetcuti.
Prime Minister Hon. Dr Joseph Muscat said:
"The fact that a global leading brand in its field has time and time again chosen Malta as a principal base to support its global operations is a certificate of the excellence of our workforce and the honesty of our partnership with industry."
De La Rue Malta Director Edward Chetcuti said:
"Today gives me real pride because it is another important milestone in our journey in Malta that stretches back more than 40 years and the teams working here are the very best in the world at what they do.
"Whilst I am deeply proud of them, our heritage and our history, it is the next 40 years that excites me most as we seek to continue to invest and grow our Malta operation as a Centre of Excellence not only within De La Rue but within our entire industry."
CWEIC Chief Executive Richard Burge said:
"As Strategic Partners of CWEIC and Official Partners of last month's Commonwealth Business Forum, De La Rue have consistently proven their credentials as an outstanding partner to Commonwealth governments around the world. We're delighted to see them further strengthening their connections in Malta where the government has also been a fantastic sponsor of Commonwealth trade and investment."
The new facility is a key milestone in De La Rue's business strategy as the currency and authentication business grows significantly year on year and the identity business shows massive growth. De La Rue is committed to its business in Malta and sees it as a central part of its international strategy. Only last month De La Rue signed an agreement with the Malta College of Arts, Science and Technology, to collaborate on new training programmes in printing and secure printing.
---