Lord Marland meets with South Pacific Island Leaders ahead of Commonwealth Business Forum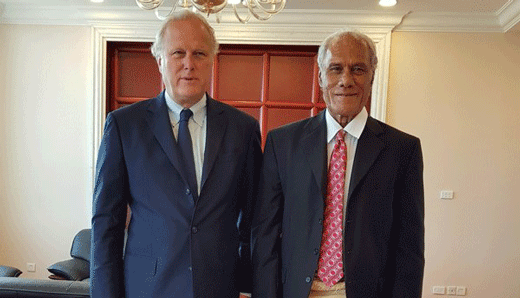 CWEIC Chairman Lord Marland met with a number of government leaders in the South Pacific on a short tour ahead of the Commonwealth Games in Gold Coast, Australia and the Commonwealth Business Forum (CBF) in the UK.
During a one day visit to the Fijian capital Suva on 21st March, Lord Marland met with the Fijian Attorney General and Minister for Economic Public Enterprises, Civil Service and Communications, Aiyaz Sayed-Khaiyum.
Foremost on the agenda was the rapidly approaching CBF, where 800 business and government leaders will convene to discuss the Commonwealth's growing trade and investment agenda. Also discussed was Fiji's importance to this agenda as a developed island economy with strong performance in the agriculture and tourism sectors.
On 23rd March, meetings in the Tongan capital Nukuʻalofa included Tongan Prime Minister Hon. Akilisi Pohiva, Minister of Commerce, Consumer, Trade, Innovation and Labour, Hon. Tu'i Uata and the Lord Speaker of Parliament, Lord Fakafanua.
The agenda covered a range of topics including how increased Commonwealth trade can help Tonga to diversify its largely agricultural based economy, and the importance of a strong Tongan voice behind the Commonwealth's trade and investment agenda.
The Commonwealth Business Forum is set to attract business leaders from across the South Pacific region.
---