Royal Mail's Nick Landon hails 'inspiring' CommonwealthFirst Export Day and Third Cohort Launch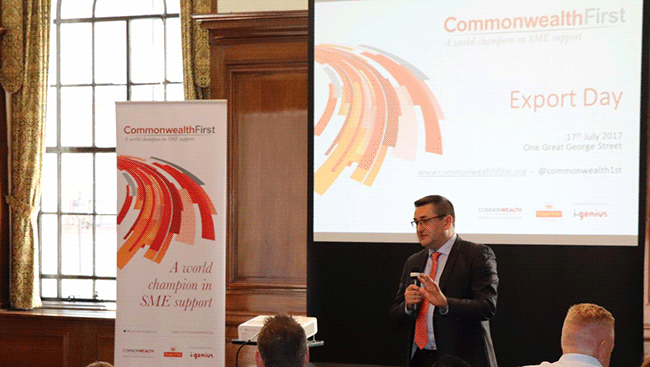 Nick Landon, Managing Director, Royal Mail Parcels takes questions on e-commerce for CommonwealthFirst's Third Cohort
CWEIC's Third Cohort of CommonwealthFirst Export Champions was launched on 17th July at our first "Export Day" in Westminster's One Great George Street – designed to give our vibrant new companies a springboard into Commonwealth markets.
The Cohort was welcomed by CWEIC Chairman Lord Marland, & Nick Landon, Managing Director of Royal Mail Parcels with presentations from Richard Snowdon, Director at Royal Mail International on 'exporting through ecommerce', and Luke Walden, FX Specialist at Godi Financial on 'FX management as an early stage exporter' (a summary can be found here: https://www.globalbankingandfinance.com/smes-warned-to-take-action-against-fx-risks-at-export-event/).
This was followed by a series of sector specific roundtable discussions where our Export Champions were able to discuss their ambitions with companies from Cohorts 1 & 2 and with our CommonwealthFirst mentors – established Commonwealth business figures from global brands including JCB and De La Rue.
Speaking at the event, Lord Marland stated that "gathered in this room is actually the future of our country as regards prosperity, ideas and job creation – I admire enormously the risks you are taking for the benefit of the UK and wider Commonwealth".
Mr Landon added that "Our Export Day was a truly inspiring day. The Third Cohort is a great group of companies; established or shiny and new, large or small, retailer, service provider, manufacturer; they all have great stories to tell and a palpable thirst for growth".
Entering its second year and with one more Cohort of 25 SME's left to recruit this winter, CommonwealthFirst will soon be embarking on its third trade mission to Canada. With great success rates recorded from missions to India, Malaysia and Singapore, this will be another huge opportunity for the Export Champions to visit a key Commonwealth market.
---