News
Focus on Nigeria: Africa's Unrivalled Economic Powerhouse
News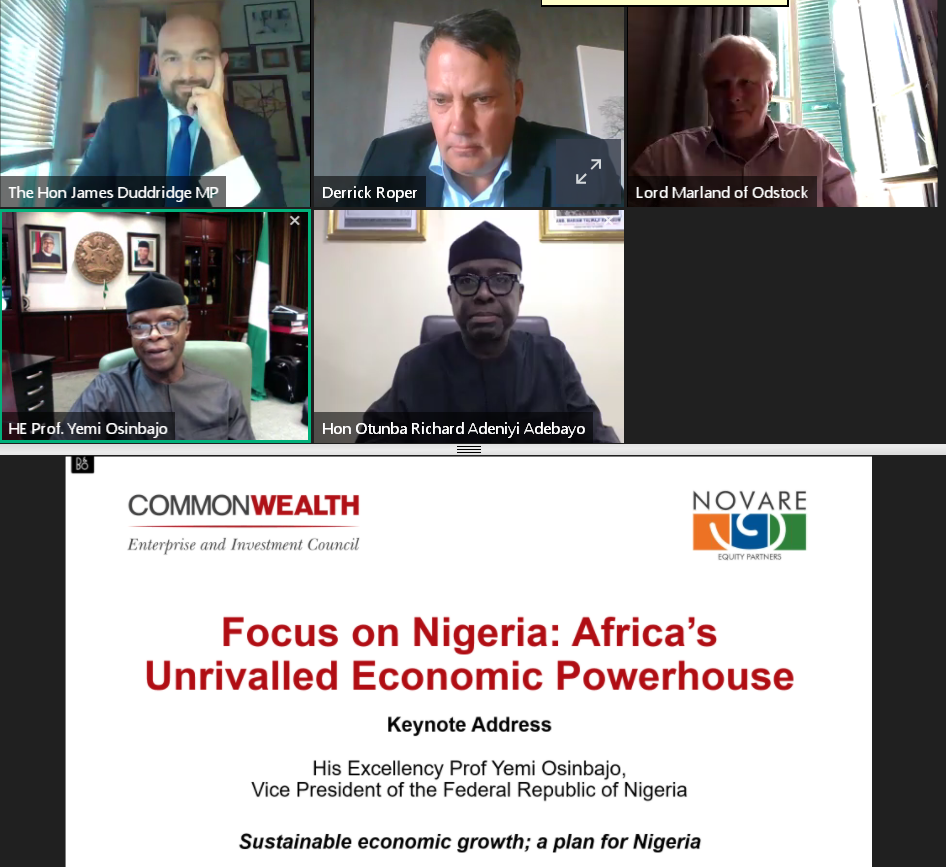 CWEIC, supported by Novare Equity Partners convened a Focus on Nigeria: Africa's Unrivalled Economic Powerhouse on Tuesday 14 July 2020, as a part of its ongoing Leadership Webinar Series.
The Webinar was a focussed discussion around the opportunities and issues facing Africa's biggest economy and most populous nation, which is also one of the world's largest oil producers.
Special Address From:
HE Prof. Yemi Osinbajo, Vice President of the Federal Republic of Nigeria
Panellists included:
Hon Otunba Richard Adeniyi Adebayo, Minister of Trade & Investment, Nigeria
James Duddridge MP, UK Minister for Africa
Ms Yewande Sadiku, Executive Secretary/CEO, Nigerian Investment Promotion Commission
Mr Derrick Roper, Managing Director, Novare Equity Partners
Lord Marland, Chairman, CWEIC
Olasupo Sashore SAN, Partner, Africa Law Practice
Babatunde Soyoye, Nigerian Co-Founder and Managing Partner of Helios Investment Partners

Key topics of discussion;
What are the current impediments to growth in the Nigerian economy
Response to COVID-19 and the emerging growth sectors
Nigeria as the factory for the Continent
Mobile money revolution
AfCFTA and Intra-African currency exchange
Participants in the 'Focus on Nigeria' Webinar session gained access to specially commissioned research from CWEIC Strategic Partner's C|T Group, founded by top political strategist Sir Lynton Crosby. C|T Group undertook unique research to gauge the Nigerian business community's response to the COVID-19 pandemic, anticipated consumer behaviour and covid-19 timeframe expectations.
Here is a recap of some of the things we were up to last week.

Please follow the journey 👇🏾👇🏾👇🏾 pic.twitter.com/iVYldMNM2q

— Prof Yemi Osinbajo (@ProfOsinbajo) July 20, 2020
Delighted to welcome H.E @ProfOsinbajo and Hon @NiyiAdebayo_ to our Focus on #Nigeria Webinar focusing on the Nigerian #economy, Response to #COVID19 and emerging growth sectors for #Commonwealth investors pic.twitter.com/LAxIJzbnce

— Commonwealth Enterprise & Investment Council (@CWEICofficial) July 14, 2020
Currently participating in a webinar organized by the Commonwealth Enterprise and Investment Council titled: "Focus on Nigeria: Africa's Unrivaled Economic Powerhouse." pic.twitter.com/BkPCRLjfDG

— Otunba Niyi Adebayo (@NiyiAdebayo_) July 14, 2020