Leaders Call for Global Partnership between India and UK Post Brexit
June 20, 2017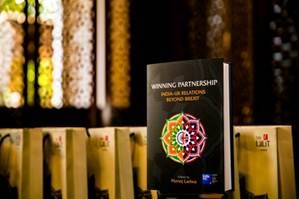 CWEIC advisory board member Manoj Ladwa has released Winning Partnership: India-UK Relations Beyond Brexit, a landmark book featuring contributions from leading experts on UK and India relations across business and politics.
As one of the key intra-Commonwealth trading partnerships, the connection between the UK and India will be a vital one for both countries and the entire network moving forward, both in a Brexit context and beyond. Now Manoj Ladwa, former communications advisor to Indian PM Narendra Modi, has assembled a distinguished array of authors to give their thoughts on how the relationship can be driven forward.
Published one week after the beginning of the UK's negotiations in Brussels, the book includes chapters from Mayor of London Sadiq Khan and Commonwealth Enterprise and Investment Council Chair, Lord Marland. In particular, Marland calls for the partnership to be the driving force behind the Commonwealth's growing trade and investment agenda, which countries and businesses from around the world will be looking to accelerate during April 2018's Commonwealth Business Forum and Commonwealth Summit.
The book is now available on Kindle – https://goo.gl/P7dd6M – and is searchable on iBooks from any Apple device. You can find out more at www.winning-partnership.com.