GLICO obtained an official operating license in 1986 and commenced business in January 1987 as a specialist life insurance company called Gemini Life Insurance Company Limited. It has since then expanded its brand and core business from being a leading provider of Life, General and Health insurance products (solely insurance businesses) to include a diverse and unique range of allied Financial Services, Real Estate and other ancillary products.
Through sound and prudent business management practices, backed by continued commitment to innovation, integration and provision of excellent products and services, the company evolved into a Holding company structure (2010) with multiple subsidiaries to accommodate expansion and diversity.
In 2003, the company partnered with Care International as the first insurance company to develop and introduce micro insurance in Ghana. Liberty investments Ltd now GLICO Capital, was also incorporated in 2003 as a specialist Fund and Asset Management company of the Group. It is licensed by the Securities and Exchange Commission (SEC) as well as the National Pensions Regulatory Authority to carry out business as an Investment Advisor. GLICO Capital is a financial partner that brings expert financial advisory services, deep technical knowledge and extensive industry experience on fund management and wealth creation.
GLICO Healthcare GH is a private health insurance company that
was incorporated in 2004. In 2005, GLICO Healthcare was re-registered as a Private Commercial Health Insurance Scheme to take advantage of the ever-growing need of Ghanaians for private health insurance in addition to addressing limitations of the National Health Insurance Scheme (NHIS).
In 2006, GLICO General was established in response to regulatory reforms in splitting the Life and non-life insurance business as well as the rising market demand. The company has grown remarkably to become fourth largest non-life insurance company in Ghana.
GLICO Pensions was incorporated in 2010 and subsequently licensed by the National Pensions Regulatory Authority (NPRA) as a corporate trustee to manage and administer Occupational Pension Schemes, Provident Funds and Group Personal Pension Schemes in line with the National Pensions Act, 2008 (Act 766).
The GLICO Group puts its core values at the forefront of all our dealing. Ethical, Transparency, professionalism, friendly and competitive service.
ADVISORY COUNCIL NOMINEE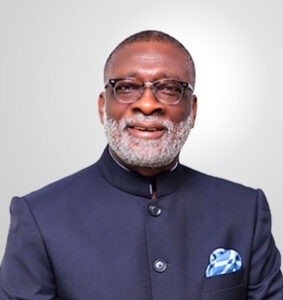 Dr. K. Achampong-Kyei
Executive Chairman
GLICO HOLDINGS LTD.
Dr. Kwame Achampong-Kyei is highly regarded as one of the most successful and astute entrepreneurs in Ghana. He is a Fellow of the Chartered Insurance Institute of Ghana (CIIG) and a Member of the Chartered Insurance Institute (CII), UK.
He is the Founder and Executive Chairman of GLICO Group., which is made up of GLICO Life Insurance Company, GLICO General Insurance Company, GLICO Healthcare, GLICO Pensions, GLICO Capital, GLICO Properties among others.
Dr. Kwame Achampong-Kyei worked with the reputable American Life in the United Kingdom for many years before returning to Ghana to pursue his dream of establishing a life insurance company with a vision of bringing life insurance to the doorstep of every Ghanaian household.
After founding Gemini Life Insurance Company (now GLICO LIFE), Dr. Kwame Achampong-Kyei exhibited remarkable business acumen to grow and develop GLICO to become a dominant brand of choice in Ghana. Apart from GLICO Group Ltd and its subsidiary companies, he also owns and has major stake in a number of other companies, which provide employment for hundreds of Ghanaians.
At the industry level, he was a Founding Member of the Ghana Insurers Association (GIA) and served as the General Secretary of the GIA for more twelve consecutive years. He was instrumental in initiating and assisting in the establishment of a number of industry code of practice. He was one of the major brains behind the establishment of an oil and gas consortium (now known as GOGIP) following the discovery of oil and gas in commercial quantities in Ghana.
Dr. Kwame Achampong-Kyei serves on several Boards and his remarkable achievements have been recognized both locally and internationally with a number of awards including the prestigious Marketing Man of the Year conferred on him by the Chartered Institute of Marketing, Ghana (CIMG) in 2008, Order of the Volta, (one of the highest national awards, conferred on him by President John Agyekum Kufuor in 2008), Honorary Doctorate Degree awarded by the Commonwealth University in 2015, the 2019 Entrepreneur of the Year among many others.
Dr. Kwame Achampong-Kyei continues to pursue his entrepreneurial passion with verve and also inspire young people to exploit their God given talents and realize their dreams.