News
ABE, Read & Earn Federation on Economic capacity building in West Africa
News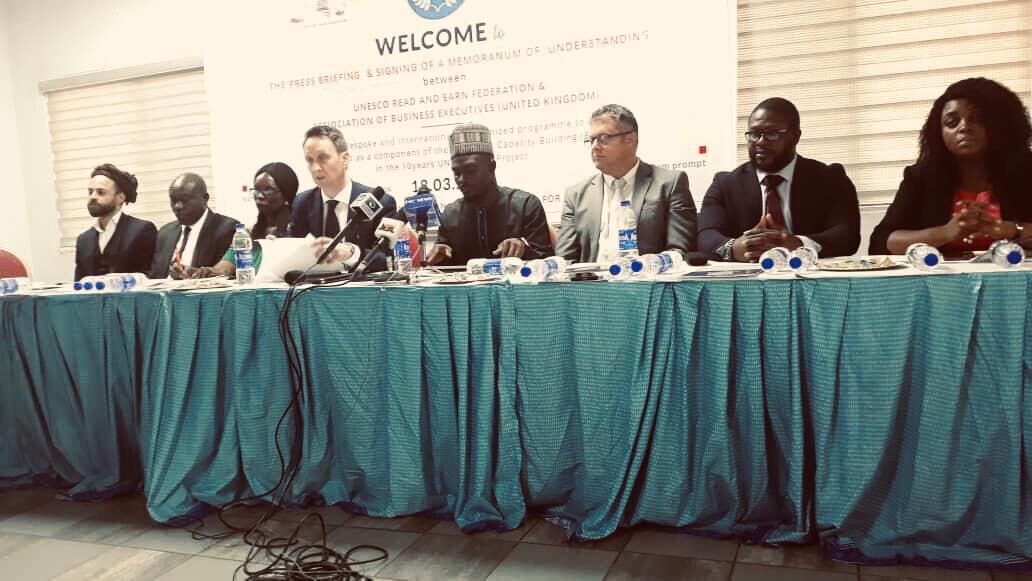 In 2019, ABE – one of CWEIC's Strategic Partners, and United Nations Educational, Scientific and Cultural Organisation Read and Earn Federation (UNESCO REF) collaborated on an economic capacity building project to provide a course in entrepreneurial skills which could be delivered digitally to 120,000 young people in Nigeria every year.  The project is also supported by the Central Bank of Nigeria and aligned to addressing the United Nations Sustainable Development Goals: quality education, decent work and economic growth.
Background
As one of the world's largest producers of crude oil and with an abundance of gas and mineral resources, Nigeria is Africa's largest economy with GDP of $3.76 BN. The International Monetary Fund predicts that Nigeria could become the ninth largest economy in the world by 2050 if it mobilises its 200 million population into a nation of entrepreneurs and consumers. But Nigeria's population advantage is also its downfall as it struggles to overcome rising unemployment, unreliable power supply, poor education and severe poverty.
Nigeria has a range of issues; the government's fiscal deficit is expanding above budget, unemployment is trending upwards and uncertainty around petrol prices all combine to create an atmosphere of economic instability. This uncertainty means the West African nation has seen a steady out-flow of its most promising young talent to Europe, leaving behind a damaging human capital crisis.
With an entrepreneurial deficit, the country is unable to develop the broad-based economy needed to provide employment, competition, innovation as well as insulation from the global price and demand shocks in its natural resource markets. Mass unemployment and poverty means that many Nigerians lack the basic amenities of life. In 2018, Nigeria overtook India as the country with the most people living in extreme poverty.
The solution
Using ABE's skills development expertise and UNESCO REF's experience in delivery by VLE to people in challenging circumstances, we set up a collaboration to meet the following objectives:
To encourage entrepreneurship for job creation thereby ending forced labour, modern slavery and human trafficking.
To provide young people with the opportunity to acquire qualitative international entrepreneurship skills and knowledge in order to contribute to the nation's economic growth (with a focus on the inclusion of women)
To increase the economic capacity – by enabling young people to learn and understand the dynamics of approaching and dealing with international markets.
Combining a laser-focus on objectives, with world class learning content, digital delivery and ensuring strong partner relations, this 10-year project is on target to produce a generation of entrepreneurs, helping Nigeria to take its place in the global economy.
Since the project started, it has gathered support from the Nigerian Police Force, the Nigerian National Youth Service Corps and the Office of the President of Nigeria. These stakeholders will help ensure that entrepreneurial skills provided by ABE and facilitated by UNESCO REF are adopted in national community-based programmes.
Challenges
The biggest challenge with this collaboration was the unreliable internet connection.  The product teams had to ensure that the content met the objectives of the programme but allowed for bitesize online learning.
In order to deliver on time we had to use a range of communication tools as video conferencing was rarely completed without the internet dipping out.   To support this, ABE had a development manager in Abuja to oversee the advocacy work and support UNESCO REF in-country to raise awareness and ensure high-tempo project management.
This collaboration has come about with the highest of ideals: changing people's lives for the better.  It is planned to develop the entrepreneurial skills of 1.2-million young people over ten years.
The skills developed through this collaboration will give more young people the opportunity to build a future in their own country and we can't wait to meet them.