News
Chair of Gibraltar Hub, Ed Davis, features on "Keeping it Civil" podcast from Strategic Partner, Hassans
News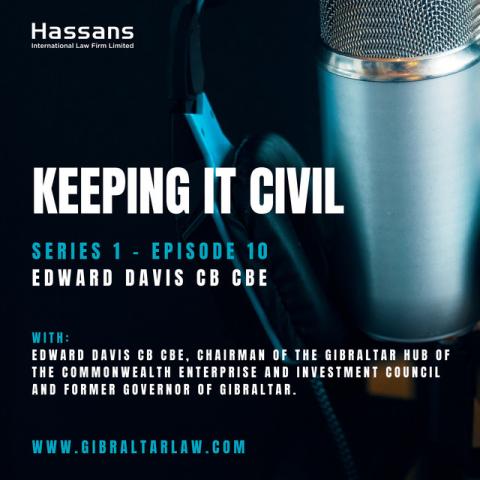 Following on from Hassans podcast with Lord Swire, CWEIC was grateful to Selwyn Figueras for welcoming Ed Davis CB CBE to the "Keeping it Civil" podcast.
Lieutenant General Davis has a distinguished record of public service having served as a senior Royal Marines Officer before being appointed as Her Majesty's Representative for Gibraltar from 2016-2020.
As Governor, he was responsible, in partnership with the Elected Head of Government, for Gibraltar's Foreign Affairs, Defence and Internal Security.  He also supported the Government of Gibraltar in their negotiations for the development of Gibraltar's future legal, financial, regulatory and digital framework for the Jurisdiction's overarching political and socio-economic relationship with the UK, EU and non-EU countries after the UK's exit from the EU.
On the podcast, Ed and Selwyn discussed the work of the Gibraltar chapter of the Commonwealth Enterprise and Investment Council (CWEIC) as Chair of the Gibraltar hub.
Thank you to Hassans for featuring Ed Davis on the podcast and highlighting CWEIC work in Gibraltar.
You can listen to the podcast below: