Caribbean
Ease of doing business

-

out of 190 countires

(World Bank, 2019)

GDP per Capita

-

UK is $41,030

(IMF, 2019)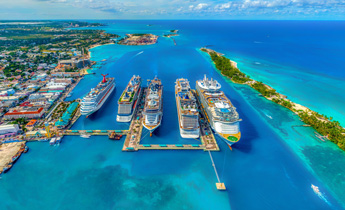 All Hubs
Economic and population growth
The Caribbean is a diverse region with significant economic potential and growth opportunities. Gross National Income (GNI) per capita varies from around US$800 to over US$30,000 and most countries rely primarily on tourism, while some on commodity exports.
With its stunning scenery and vibrant cultures, the Caribbean is one of the world's top tourist destinations. Sustainable use of ocean resources, known as the "blue economy," offers potential for economic diversification, while preserving the region's environment, as well as further development of other sectors with potential for growth.
Many small economies, including those that are tourism-dependent, were maintaining a positive growth rate prior to the onset of the COVID-19 pandemic. The Caribbean has been badly impacted by the near halt in tourism. The Caribbean economy contracted an estimated 8.6% in 2020, and by 12.6% excluding Guyana. Many jobs are affected, and a recent high frequency phone survey in one of the Caribbean small states suggests that poverty headcounts are rising, though the magnitude and duration of this increase will depend on the pace of economic recovery. The progression of the pandemic and vaccination efforts will have a major impact on the speed and scope of recovery.
Caribbean countries are extremely vulnerable to climate change and natural disasters. Extreme weather events are common – the region experienced nine hurricanes at Category 3 and above in 2019-2020, and a record number of named storms in the 2020 hurricane season. When a hurricane strikes, it can wipe out more than the entire annual GDP of a small island and it is often the poorest that suffer the most. Major hurricanes include Irma and Maria in 2017, and Dorian in 2019. In April 2021, the eruption of the La Soufrière volcano in Saint Vincent and the Grenadines has required mass evacuations, and is having widespread impacts on the country's people, infrastructure, and economy. Building fiscal and financial resilience and investing in preparedness – be it physical, health-related, or social safety nets – are critical to reducing the large human and economic costs caused by climate change. to the Caribbean also aims to develop new sources of economic growth and high productivity jobs, which will require investing in people and climate adaptation, improving the investment climate and connectivity, and safeguarding the environment.