News
CWEIC Appoints New Country Director in Bengaluru, India
News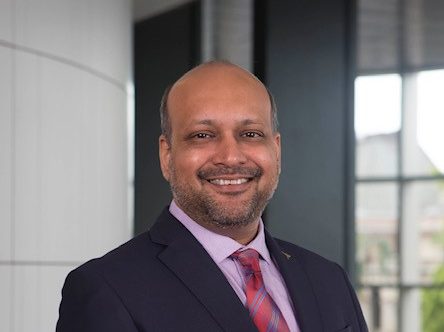 The Commonwealth Enterprise and Investment Council (CWEIC) is delighted to announce the appointment of its first Country Director in India, Gitesh Agarwal who will be based in Bengaluru, Karnataka, the "Silicon Valley" of India.
With 23 years of Corporate and Government experience, Mr Agarwal has come to CWEIC from his recent role as a Trade & Investment Commissioner (India and Sri Lanka) with Trade & Investment Queensland, a CWEIC Strategic Partner.  Mr Agarwal is an Indian-Australian national and was educated in Australia in Sydney and in Madras.
As Head of the India Office for TIQ, Gitesh led the team to enhance the A$10 billion bilateral trade between Queensland and India. He also actively contributed to the development of Queensland's first ever country strategy focussed on India as well as its operational execution.
Gitesh has advised over 1000 companies with India strategy across multiple industries, ranging from Agri; Food & Beverages; Education & Training; Biotech & Health; Mining; Cleantech; Retail; Automotive; Creative, Design & infrastructure industries.
He has won numerous awards including being selected twice as "Top 100 Chief Marketing Officers" in India, through independent global agencies while in his corporate role as the Chief Marketing Officer, for one of India's leading global firms in Workplace Solutions.
India is the engine room of the Commonwealth and CWEIC is delighted to open a hub there. As the Commonwealth's largest country and with the country exporting $50 billion worth of goods to Commonwealth countries and importing $54 billion from Commonwealth countries, it is vital importance to intra-Commonwealth trade.
Mr Agarwal will head the India office from Bengaluru which is known for ITeS (Information Technology Enable Services), it is also home to India's largest life sciences; aerospace and automotive industries.   The Capital of the State of Karnataka, Bengaluru offers considerable opportunities for the Commonwealth network.
25% of India's aircraft and spacecraft industry
4th largest automobile producing state with global companies such as Mercedes (Daimler), Bosch, Toyota, Volvo, Scania.
60% of Biotech companies in India are in Karnataka. 85+ Chip designing houses
3rd highest number of start-ups globally are in Bengaluru.
40% national share in electronic design. Major players like Wistron (Apple's manufacturer), Intel, Qualcomm, Nvidia and many other global leaders benefit from this ready ecosystem.
63% of installed power capacity in renewable sources.
1st in production of coffee, ragi, sunflower, gherkins, corn.
Bengaluru is a leading destination for the Textile and Apparel sector in India and is also known as the Garment Capital of India. The state also is a leading producer of raw materials such as silk, wool and cotton.
Inward Investment Bengaluru:
Google's first engineering centre outside US, focusing on Artificial intelligence and Machine Learning
Intel's largest design centre outside US, focusing on 5G technology
General Electric's largest R&D centre outside US, focusing on reverse innovation and Internet of Things
Samsung's largest R&D centre outside South Korea, focusing on Samsung Gears and AI virtual assistant
2 International airports and 6 Domestic airports in the state; Bengaluru Airport is the 3rd largest airport in India
Power Surplus State with highest installed capacity of renewable energy (18.8 GW) in country; 63% of installed capacity is renewable
The State of Karnataka:
GSDP $230 Bn, almost the size of Vietnam
Karnataka is home to 400+ MNCs with global R&D centres.
Bengaluru alone produces 60% of total value of machine tools manufactured in India
Karnataka is the second highest producer of special purpose and heavy electrical machinery in India.
Karnataka is the second largest chip design hub in the country
Karnataka is the largest software exporter in India