News
CWEIC launches Commonwealth Trade and Investment Forum with a press conference in Bangladesh
News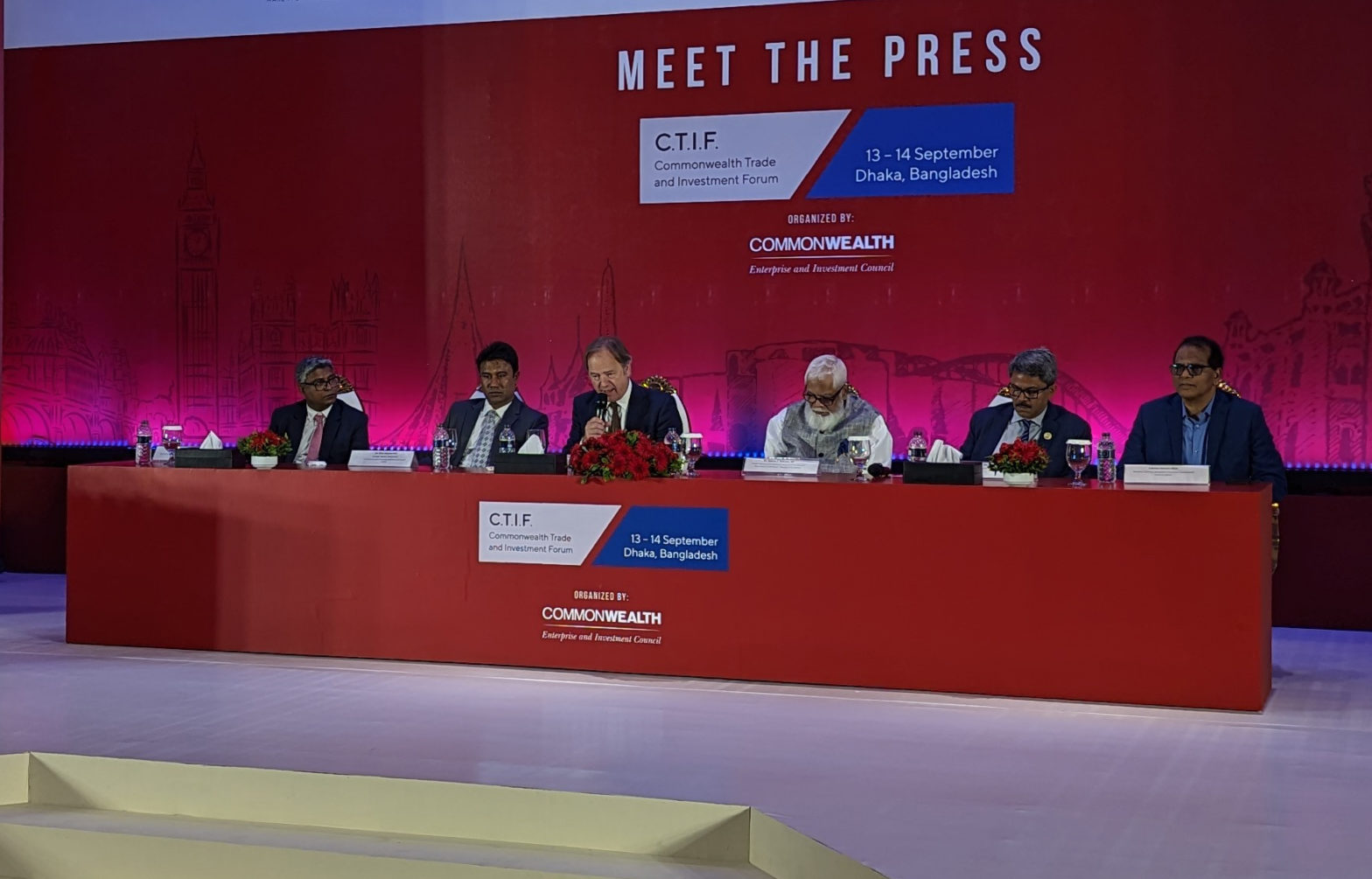 Lord Swire was honoured to address members of the Bangladeshi and international press for the official launch of the Commonwealth Trade and Investment Forum (CTIF).
CTIF will be held in Dhaka, Bangladesh on the 13th and 14th of September and will be opened by the Prime Minister Sheikh Hasina.
The Forum will be the first of its kind held in Bangladesh, this will be the first time that the Commonwealth business community has gathered in Bangladesh. Bangladesh was selected to host CTIF, recognising the rapidly growing hub that CWEIC is building there and the impressive economic growth rate and ambitious plans for development.
CTIF will be organised by the Commonwealth Enterprise and Investment Council in partnership with the Bangladesh Investment Development Authority (BIDA), Ministry of Foreign Affairs and Zi Foundation.
Lord Swire joined Salman F Rahman, Private Industry and Investment Adviser to Prime Minister; Mr Shahriar Alam, State Minister for Foreign Affairs; Mr Lokman Hossain Miah, Executive Chairman (Senior Secretary), Bangladesh Investment Development Authority (BIDA); and Zillur Hussain MBE, Strategic Advisor, Bangladesh at a special press conference convened to give further information about CTIF.
Salman F Rahman emphasised the importance on the Bangladesh-Commonwealth relationship and looks forward to September, commenting "during the forum, Bangladesh will be able to showcase its trade and investment opportunities before the Commonwealth countries … it will be a win-win situation for everybody".
State Minister for Foreign Affairs Mr Shahriar Alam said the Commonwealth Trade and Investment Forum is an important platform to harness trade and investment among the 56 Commonwealth nations and beyond.
Speaking to the press, Zillur Hussain said "the Forum will offer a platform for promoting trade, investment, and economic growth. It aims to foster partnerships, promote innovation, and explore avenues for sustainable and inclusive economic development for Bangladesh".
"I believe, it will also offer opportunity for businessmen, investors, and entrepreneurs of the Commonwealth to join Bangladesh's impressive development journey towards a new future," he added.
CWEIC will be releasing further information about CTIF and how to get involved in the coming days.