News
CWEIC Signs MOU to Establish a Commonwealth – China Business Dialogue
News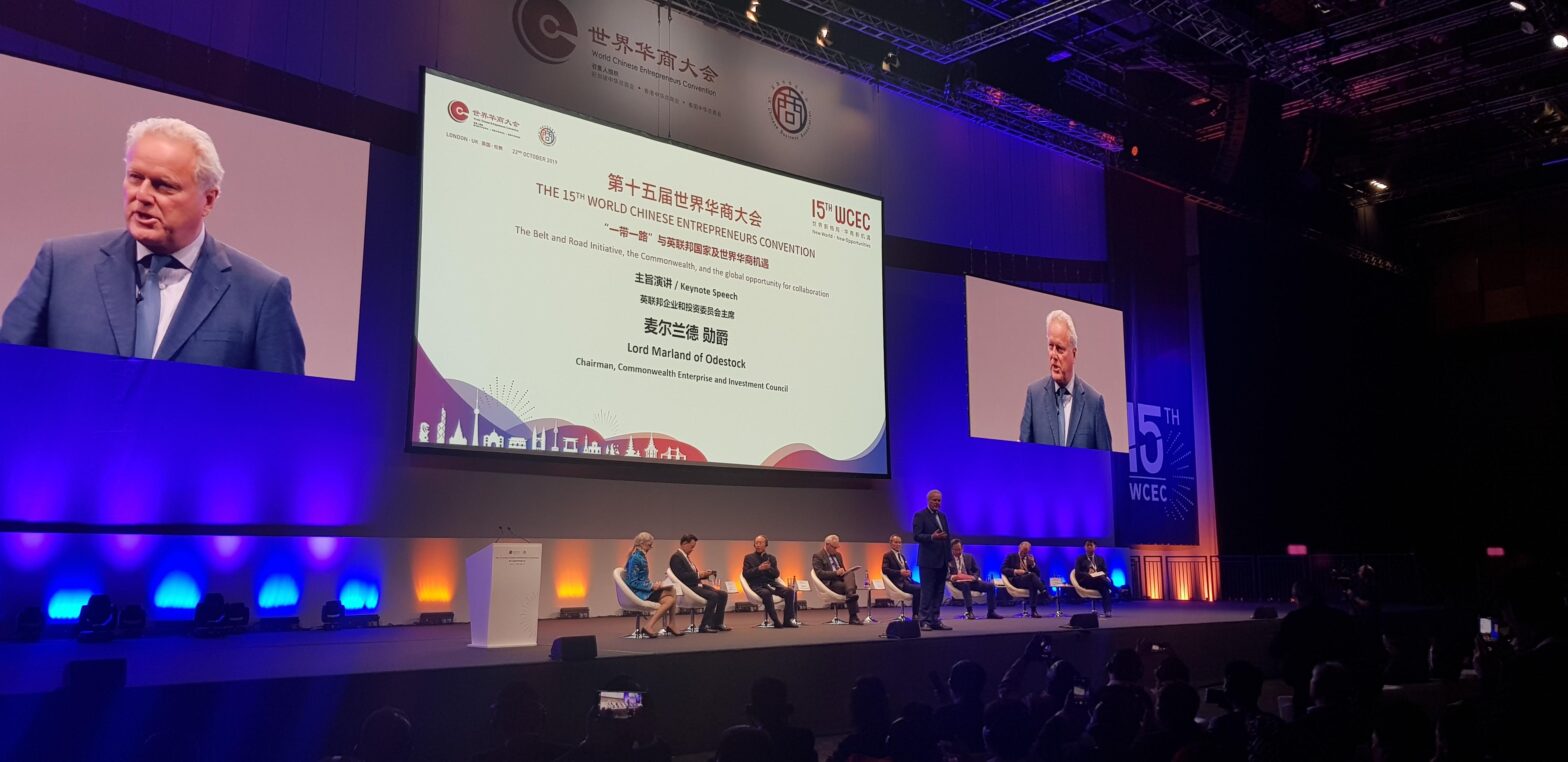 CWEIC's Chairman Lord Marland gave the keynote address during the WCEC's Belt and Road Initiative Forum.
CWEIC was delighted to be an official partner at the 15th World Chinese Entrepreneurs Convention (WCEC) in London.
The WCEC, now in its 27th year, serves as the major global platform connecting Chinese and international businesses and investors to drive economic, trade and business cooperation. The event was the largest gathering of international business leaders from both mainland China the Chinese diaspora, ever to come to London. Over 3,500 delegates from around the world attended across the three-days. We were delighted that over 25 of CWEIC's Strategic Partners from 10 Commonwealth countries participated during the WCEC.
HRH the Duke of York opened the event, mentioning that there was a great deal of overlap between the countries of the Commonwealth and the Belt and Road Initiative. During the opening ceremony, CWEIC were delighted to sign an MOU with the UK-China Business Leaders Confederation. The UK China Business Leaders Confederation brings together British and Chinese private business leaders with a deep commitment to the immense potential of cross border business initiatives.
The MOU signing launched a Commonwealth – China Business Dialogue which aim to harness the clear and growing interest from Commonwealth business communities for greater engagement with China, and for Chinese businesses to enhance their commercial relationships in Commonwealth markets.
Lord Marland Chairman, CWEIC and Madam Xia Hua, Chair of the UK China Business Leaders Confederation signing an MOU to establish a Commonwealth-China Business dialogue during the WCEC.
Combined, the Commonwealth and China represent 3.7 billion people – more than half of the world's population. The fact that between 2000 and 2016, China's total trade with the Commonwealth grew 8 times faster than Commonwealth trade with the rest of the world, illustrates the importance of Commonwealth-China relations.
A key area for collaboration between China and the Commonwealth is the ambitious Belt and Road Initiative (BRI). The BRI is already present in a number of critical commonwealth markets including Jamaica, Kenya, Nigeria, Malaysia, Pakistan and Sri Lanka. During the WCEC's Belt and Road Initiative Forum CWEIC Chairman, Lord Marland, gave the keynote address, highlighting how increased partnership between the Commonwealth and the BRI can re-shape global trade.
CWEIC looks forward to harnessing the huge opportunity to enhance the business relationships between the Commonwealth and China in light of the BRI, particuarly as we look toward hosting the next Commonwealth Business Forum 2020 in