News
Commonwealth Leadership Webinar Calendar
News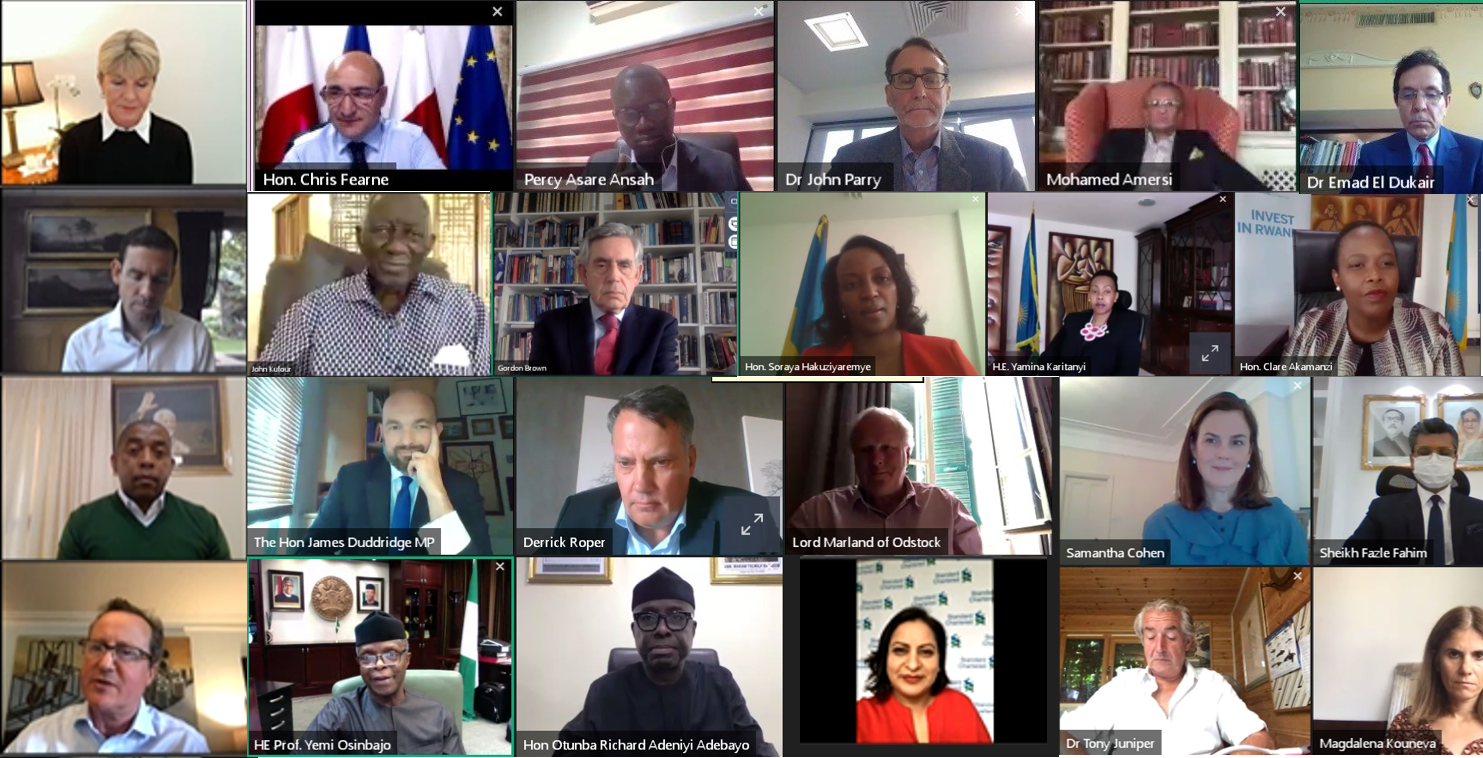 CWEIC has launched a Commonwealth Leadership Webinar Series in order to equip members with the knowledge and tools to navigate this crisis. The series of webinars have been hosted with senior government  leaders alongside industry experts. Through this extended period of uncertainty, CWEIC remains committed to providing our Strategic Partners with a network to support their businesses across the Commonwealth.
Upcoming Webinars:
Please contact us for information on registering for CWEIC's webinar series.
February 2021 (TBC) – Launch of the Commonwealth Business Forum
The Commonwealth Business Forum will be held from 22-24 June 2021 in Kigali Rwanda. Businesses and Governments around the world are keen on creating a new trading agenda following the unprecedented challenges posed by Covid-19. Themed Reset for the Commonwealth, CBF 2021 will bring together Heads of Government, Ministers and business leaders from across the Commonwealth and beyond.
25 February 2021 – CWEIC Global Advisory Council Meeting*
*Only Open to CWEIC Strategic Partners
2021's first Global Advisory Council meeting will be conducted virtually. The meeting brings together senior management representatives from our Strategic Partners to discuss key themes and issues impacting Commonwealth businesses. Strategic Partners are also provided with key insights into the economic and political climate in key markets.
March 2021 (TBC) – CWEIC Sector Webinar: Innovation and Technology
Broadcasting from CWEIC's newest 'Hub Office' in Gibraltar, this webinar will discuss technology, with a particular focus on blockchain and financial services, and how it contributes to Gibraltar's developing reputation as a global centre for innovation and excellence. This Webinar will bring together government and business leaders from Gibraltar with an international audience. Discussion will focus on how Gibraltar has developed a world leading regulatory environment that has allowed the technology industry to boom in a transparent and regulated manner. We will look to share best practice with a wide array of Commonwealth partners.
25 March 2021 – CWEIC Webinar: The African Continental Free Trade Agreement (AfCTA)
In January 2021, the African Continental Free Trade Agreement (AfCFTA) was ratified becoming the largest free trade agreement in the world since the establishment of the World Trade Organisation. Nineteen of the 54 Commonwealth nations are in Africa, and despite the ravages of Covid-19, the continent is set to forge a new economic path. The Agreement seeks to create a single market for goods and services by facilitating free movement of goods, services and investment within the African Continent.
This webinar will bring together government and business leaders both from Africa, and from those who trade and invest with the Continent to examine the key opportunities for Commonwealth businesses.
15 April 2021 – CWEIC Sector Webinar: AI, big data, disruptive innovation and the challenge for regulators
Artificial intelligence is impacting the future of virtually every industry and every human being. It has acted as the main driver of emerging technologies like big data, robotics and IoT, and it will continue to act as a technological innovator for the foreseeable future. This is more relevant than ever in a post Covid world. This webinar will bring together industry experts to discuss how Commonwealth businesses and regulators can keep ahead of developments and benefit from this era of rapid technological innovation.
29 April 2021 – CWEIC Webinar: Attracting investment – Reset, Recovery and Resurgence
Over the past year, consolidation has been the priority for businesses and governments around the world. They are now starting to look beyond Covid-19. FDI's are key to economic recovery and play a pivotal role in bolstering local job growth. This webinar will bring together Government leaders, investors and investment seekers to discuss opportunities, innovative methods to attract investments and the road to economic recovery.
Past Webinars
Webinar recordings for selected session are available here.
02 February 2021 – Sector Webinar: Ports and Shipping
This webinar convened port operators, the shipping industry and their regulators and financiers from the developed and the emerging world, with an audience of business leaders who are reliant on a strong shipping industry. The discussion covered the core challenges facing the industry and identified areas for greater investment and collaboration across the Commonwealth.
Lord Marland, Chairman, CWEIC
Hon Joseph Muscat, Former Prime Minister of Malta
The Hon Vijay Daryanani, Minister for Business, Tourism, Transport and the Port, Gibraltar
Mbappe Penda, Director General, Cameroon Shippers' Council
Alastair Welch, Regional Director, Port of Southampton
Shahid Ali, Chief Executive Officer, Maldives Ports Limited
Despina Theodosiou, President of WISTA International and CEO of TOTOTHEO MARITIME
10 December 2020 – Sector Webinar: Banking and Professional Services 0915 – 1045 
An in-depth look into banking and professional services with a focus on trade in services with the emerging world.
Lord Marland, Chairman, CWEIC
Alderman William Russell, The Rt Hon the Lord Mayor of London
Catherine McGuinness, Chair of the Policy and Resources Committee, City of London
Cheryl Buss, Chief Executive, Absa International
Eshana De Silva, Chairman, National Development Bank Sri Lanka
David Bartlett, Director, Standard Chartered
Yemi Adefisan, Group Chief Executive, Cititrust Holdings
Benjamin Amenumey, Chief Executive Officer, Universal Merchant Bank
01 December 2020 – Thematic Webinar: Women in Leadership Africa
This webinar, organised in partnership with 100 Woman in Finance, the Woman of the Future Programme, the Government of Rwanda and The Queen's Commonwealth Trust, highlighted excellence in female leadership across Africa.
Samantha Cohen CVO, Chief Executive, CWEIC
The Rt Hon Patricia Scotland QC, Commonwealth Secretary-General
Folorunso Alakija, Vice-chairman, Famfa Oil
Dr Amina Hersi Moghe, Founder, Horyal Investments
Chidinma Akaniro, Founder, Youths of West Africa (YOWA)
Sabeeha Mahomed, Entrepreneur and Founder of Maths Wise
Alice Nkulikiyinka, Country Director of Business Partners International and Board Member of the RDB
12 November 2020 – Investor showcase: Lagos Free Zone
Introducing the Lagos Free Zone to new investors and to update existing partners on recent developments and advances in the project.
27 October 2020 – Sector Webinar: Launch of Commonwealth Legal Network
This webinar launched a series of legal-focused sessions, examining the basis for a Commonwealth Legal Network and key focus areas.
Nana Adjoa Hackman, Managing Partner, Africa Legal Associates (Ghana)
Adam Rose, Partner, Mishcon de Reya LLC (United Kingdom)
Nicolas Constantinides, Partner, Tassos Papadopoulos & Associates LLC (Cyprus)
Ben Cohen, Managing Partner, Bartley Cohen (Australia)
Syed Naqiz Shahabuddin, Senior Partner, Naqiz & Partners (Malaysia)
Costas Katsaros, Founding Partner, Emilianides Katsaros LLC (Cyprus)
Michael Sippitt, Chairman, Clarkslegal LLP (United Kingdom)
15 October 2020 – Sector Webinar: Insuring the Commonwealth Post – COVID 
This Webinar looked at how the insurance industry will recover post-COVID, and the role it will play in helping to revitalise the global economy.
Lord Marland, Chairman, CWEIC
Laurence Smith, Regional Director Africa, Chartered Insurance Institute
Wole Oshin, Group Managing Director, Custodian Investments
Percy Asare Ansah, Chief Executive Officer, Premier Health Insurance
Matt Lilley, CEO Africa, Prudential Plc
Enitan Solarin, Managing Director, YOA Insurance Brokers
Mikir Shah, Chief Executive Officer, Africa Specialty Risks
23 September 2020 – Sector Webinar: Textiles and the Garment Industry
Sir Hugo Swire, Deputy Chairman, CWEIC
Panel Discussion
Caroline Rush, Chief Executive, British Fashion Council
Rakhil Hirdaramani, Director, Hirdaramani Group
Linda Ampah, CEO, KAD Manufacturing
Md. Siddiqur Rahman, Vice President, FBCCI and Chairman, Sterling Group
Marc Killbourn, Production Director, AllSaints
Dr Patsy Perry, Manchester Fashion Institute
Interventions
Hussain Fazal, CEO, Hussain Mills
Nelly Hagan-Deegbe, Creative Director, Duaba Serwa and Fred Deegbe, CEO, Heel the World
Dr Afua Asabea Asare, Chief Executive Officer, Ghana Export Promotion Authority (GEPA)
Rubana Huq, President, Bangladesh Garment Manufacturing and Exporters Association
14 September 2020 – Focus on India Webinar in Partnership with the Confederation of Indian Industry
In partnership with the Confederation of Indian Industry's annual CEO's delegation, CWEIC held a Focus on India webinar to further strengthen Commonwealth India business relations, and to celebrate CII's 125th Anniversary. This high-level discussion between business and government from the UK, India and the wider Commonwealth, looked at how stronger UK-India relations benefit the Commonwealth business community and explored the role business can play in supporting government develop a FTA post-Brexit.
Lord Marland, Chairman, CWEIC
Keynote Remarks: The Rt Hon Patricia Scotland QC, Commonwealth Secretary-General
Uday Kotak, President, CII
Chandrajit Banerjee, Director General, CII
Philip Bouverat, Director, JCB
Andrew Burnell, Managing Director, Spafax
Mr R Mukundan, Managing Director, Tata Chemicals
Gaurav Kapur, Head of Policy for India, ACCA
Mr Shreekant Somany, Chairman & Managing Director, Somany Ceramics Limited
09 September 2020: A Conversation with Muhammad Yunus
A Conversation with Professor Muhammad Yunus, Nobel Prize winner, social entrepreneur, banker, economist and Founder of Grameen Bank.
27 July 2020: Commonwealth Clean Energy Conversation
This Webinar discussed the challenges, the investment opportunities and how the Commonwealth can be used as a platform to co-ordinate and share knowledge to advance the transition to green economies.
Samantha Cohen CVO, CEO CWEIC
Magdalena Kouneva, Director General, REEEP
Dr Tony Juniper CBE, Board Member, Cool Earth
Richard Abel, Managing Director, UK Climate Investments LLP (Macquarie Group)
Sheikh Fazle Fahim, President, Federation of Bangladesh Chambers of Commerce and Industry
22 July 2020: A Global Right to Education for All: A Conversation with The Rt Hon Gordon Brown and H.E President Kufour
Gordon Brown is the United Nations Special Envoy for Global Education and former Prime Minister of the United Kingdom. President Kufour was the former president of Ghana
14 July 2020 – Focus on Nigeria: Africa's Unrivalled Economic Powerhouse
CWEIC, supported by Novare Equity Partners convened a Focus on Nigeria: Africa's Unrivalled Economic Powerhouse on Tuesday 14 July 2020, as a part of its ongoing Leadership Webinar Series. The Webinar was a focused discussion around the opportunities and issues facing Africa's biggest economy and most populous nation, which is also one of the world's largest oil producers.
HE Prof. Yemi Osinbajo, Vice President of the Federal Republic of Nigeria
Hon Otunba Richard Adeniyi Adebayo, Minister of Trade & Investment, Nigeria
James Duddridge MP, UK Minister for Africa
Ms Yewande Sadiku, Executive Secretary/CEO, Nigerian Investment Promotion Commission
Mr Derrick Roper, Managing Director, Novare Equity Partners
Lord Marland, Chairman, CWEIC
Olasupo Sashore SAN, Partner, Africa Law Practice
Babatunde Soyoye, Managing Partner of Helios Investment Partners
09 July 2020: Focus on Rwanda – Recovery, Reset and the Road to CHOGM 2021
This webinar, in partnership with the Government of Rwanda, explored how Rwanda emerged as a model of excellence in its pandemic response, and how the Commonwealth's newest member is contributing to Africa's emergence as a global powerhouse in the post covid 19 global economic reset.
Hon Soraya Hakuziyaremye, Minister of Trade, Rwanda
Hon Clare Akamanzi, CEO, Rwanda Development Board
Samantha Cohen CVO, Chief Executive, CWEIC
HE Yamina Karitanyi, Rwanda's High Commissioner to the UK
01 July 2020: Innovation in Fintech: The Opportunity for Corporate Liquidity & Growth
CWEIC launched our Commonwealth Leadership Webinar series  with former UK Prime Minister the Rt Hon David Cameron, former Foreign Minister of Australia Julie Bishop, and industry experts, to explore how fintech innovations can assist established companies across the emerging and developed world support new products, strengthen their financial positions, and increase their capital base. Speakers included:
Rt Hon David Cameron, Former Prime Minister, UK
The Hon Julie Bishop, Former Foreign Minister, Australia
Lex Greensill CBE, Founder, Greensill Capital
Vuyani Jarana, Chairman of Mobax Group and Former CEO of South African Airways & Vodacom Business
Razia Khan, Managing Director, Chief Economist, Africa and Middle East, Standard Chartered Bank
04 June 2020: The Commonwealth, Covid‐19 and the City's Response; A Conversation with the Lord Mayor of London
We were delighted to invite CWEIC members for an interactive webinar discussion on The Commonwealth, Covid‐19 and the City's Response, with Alderman William Russell, The Rt Hon the Lord Mayor of London, UK.
 26 May 2020: Fintech and mobile payments: a game changer for financial inclusion post covid-19?
This insightful panel discussion brought together fintech leaders to discuss how developments in fintech and the necessity for such innovation will impact financial inclusion efforts. Panelists include:
Lucy Demery, Global Head of Fintech Banking, Standard Chartered
Albert Maasland, Chief Executive, Crown Agents Bank
Michael Kent, Chairman, Azimo
Myles Hagan, Head of Channels, Universal Merchant Bank
Ashraf Sabry, CEO, Fawry
19 May 2020 – The Impact of Covid-19 on the Tourism Sector across the Commonwealth: Immediate Responses and Future Opportunities

This webinar, examined the future strategies available to the tourism and travel industry, including possible substitutes such as domestic travel for larger markets and the leveraging of the Commonwealth network for international coordination in support of the revival of the industry and future growth.
The impact of covid‐19 on tourism in Small Island States
The Hon Julia Farrugia, Minister for Tourism, Malta
His Excellency Mohammed Nasheed, Speaker, Maldives
Mr David Dingle, Chairperson, Carnival Cruises
Mr Butch Stewart, Chairman, Sandals Resorts
Mr George Campanellas, Chief Executive, Invest Cyprus
The tourism industry's response to covid‐19
Hon Ali Waheed, Minister for Tourism, Maldives
Dr Jyotsna Suri, Chairperson, Lalit Group
Mr Sanath Ukwatte, President, The Hotels Association of Sri Lanka
Mr Peter Fearnhead, CEO, African Parks
Ms Anna Pritchard, Regional General Manager, UKEMEIA, Qantas Airways
14 May 2020 – Designing Appropriate Economic Policies after Covid-19 with Lord King

CWEIC were delighted to host Lord King of Lothbury, Former Governor of the Bank of England (2003 to 2013) and Chairman of the Monetary Policy Committee, for members-only interactive webinar session on "Radical Uncertainty" and designing appropriate economic policies after Covid-19.
07 May 2020 – The Healthcare Industry's response to COVID-19: from PPE procurement to tech innovation.
This webinar explored the wide-ranging response of healthcare industries to Covid-19 and how businesses can support Governments in the response. Panelists included;
Hon Chris Fearne, Deputy Prime Minister and Minister of Health, Malta
Mohammed Amersi, Founder, Amersi Foundation
Dr Emad El Dukair, CEO, InterHealth Canada
Dr John Parry, Clinical Director, TPP
Prof Vajira Dissanayake MBBS, Chairman, Commonwealth Centre for Digital Health
Percy Asare Ansah, CEO, Premier Health Insurance
30 April 2020 – A discussion with Sir Lynton Crosby
CWEIC launched the first of its weekly Webinar series with Sir Lynton Crosby Founder of C|T Group providing an update to CWEIC members on the his latest COVID-19 research, giving unique insights into public opinions of government's responses and the concerns, spending habits and expectations of consumers in the UK, US, Australia and India.