News
Focus on Rwanda: Recovery, Reset and the Road to CHOGM 2021
News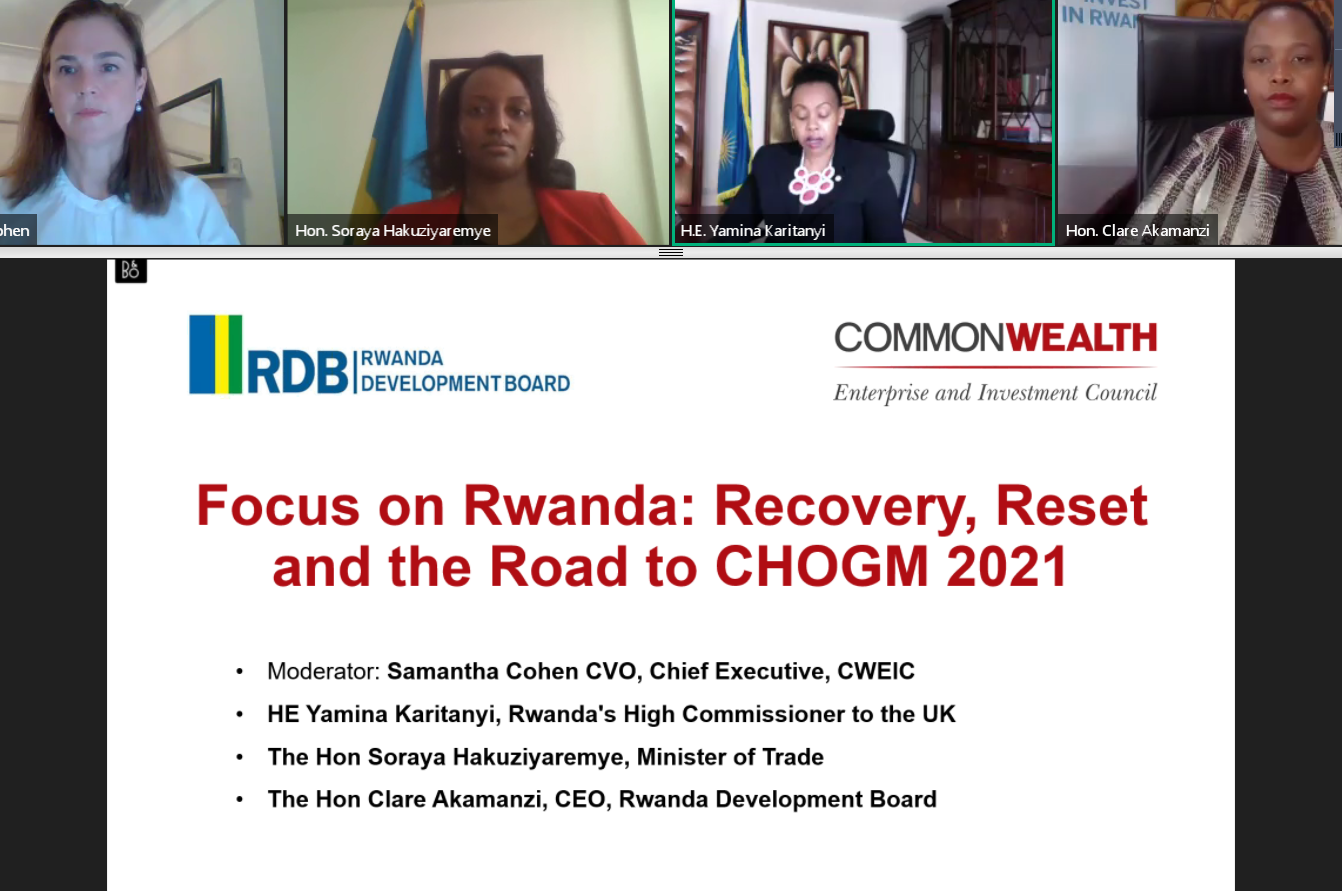 Focus on Rwanda: Recovery, Reset and the Road to CHOGM 2021
Thursday 9 July 2020
0920 – 1030 (BST)
 Rwanda, the 'land of a thousand hills', will  host the Commonwealth Heads of Government Meeting (CHOGM), including the postponed Commonwealth Business Forum (CBF) in 2021. Rwanda's attractive investment climate: decade-long 8% GDP growth rate and business-friendly environment (Rwanda is second on the World Bank's Ease of Doing Business Index in Africa) – contributes to the country's growing reputation as an international hub for intra-African trade and investment.
This webinar, in partnership with the Government of Rwanda, explored how Rwanda emerged as a model of excellence in its pandemic response, and how the Commonwealth's newest member is contributing to Africa's emergence as a global powerhouse in the post covid-19 global economic reset.
CBF 2021, due to be held in Kigali next year, was also discussed exploring both Rwanda's pathway to economic recovery, and the unique investment opportunities across agricultural, tourism, infrastructure, ICT, energy, construction and mining sectors, all of which contribute to the 'Made in Rwanda' brand.
Rwanda also ranks in the top 5 countries globally for gender equality and CWEIC were delighted to welcome three of Rwanda's most senior female leaders to this webinar.
Panellists
Moderator: Samantha Cohen CVO, Chief Executive, CWEIC
HE Yamina Karitanyi, Rwanda's High Commissioner to the UK
Hon Soraya Hakuziyaremye, Minister of Trade, Rwanda
Hon Clare Akamanzi, CEO, Rwanda Development Board
This morning High Commissioner @YKaritanyi opened a webinar hosted by @CWEICofficial on Rwanda's #COVID19 Recovery, Reset & Road to #CHOGM2021.
RDB CEO @cakamanzi & @RwandaTrade Minister @SorayaMHlive delivered addresses and highlighted #Rwanda's unique investment climate. 🇷🇼📈 pic.twitter.com/P82elOYqjj

— 🇷🇼Rwanda in UK 🇬🇧🇮🇪 (@RwandaInUK) July 9, 2020
RDB CEO @cakamanzi will tomorrow join @RwandaTrade Minister, @SorayaMHlive & @YKaritanyi, @RwandaInUK High Commissioner in a discussion by @CWEICofficial on Rwanda's #COVID19 Recovery, Reset & the Road to #CHOGM2021.

Register to follow the conversation at https://t.co/MRANZfawc9 pic.twitter.com/ZG6JGh1KSk

— Rwanda Development Board (@RDBrwanda) July 8, 2020