News
How Three Australian Businesses Are Changing Lives During COVID-19
News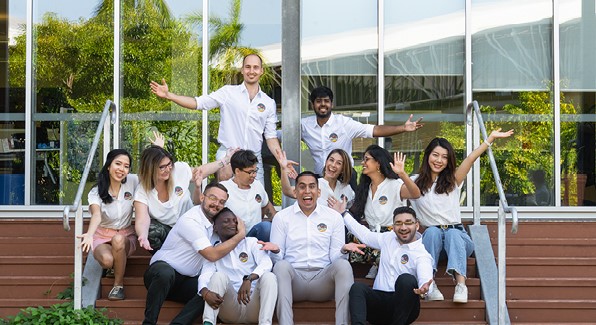 Amid the challenges of the pandemic, three Australian businesses saw an opportunity to support struggling international communities through this tough time and help them rebuild on the other side.
When COVID-19 forced Australia into lockdown this year, tens of thousands of international students were unable to fly home. Many lost their jobs but weren't eligible for government support packages. They couldn't rely on financial help from home, as many students were from countries hit hard by the pandemic.
In Far North Queensland, Study Cairns launched an initiative that's helped almost 2,000 stranded international students. Study Cairns is the region's peak body for international education and training, and manages the Cairns Student Hub.
Through the #CairnsCares campaign, Study Cairns provided groceries and nutritious meals to students in need, created a livestreamed TV show presented by students, and developed a program to connect students with local families online. This meant they could keep practising their English and stay connected.
"The community's support for #CairnsCares was overwhelming, with students regularly reporting how the kindness of the Cairns community positively impacted their lives," says Janine Bowmaker, President of Study Cairns. "The initiative also assisted local businesses, as students were able to use the money they saved to pay for ongoing accommodation costs and tuition fees.
"To hear direct from students 'you saved my life' is truly humbling and makes every ounce of effort worthwhile." – Janine Bowmaker, President, Study Cairns
Shaking things up with a little kindness
In the Northern Territory, current and former international students from Charles Darwin University also stepped up. They created Kindness Shake, a community-led initiative that provides meals and groceries to international students, migrants and temporary visa holders in need, and runs events to facilitate connection and inclusion.
These Kindness Shake programs are delivered in partnership with international student volunteers, education providers, and local businesses and multicultural groups. The Kindness Shake team is also looking ahead and will focus on improving the employability of international students through various programs.
Since launching in April 2020, Kindness Shake has helped over 500 people, provided more than 5,000 meals, partnered with more than 30 organisations and local businesses, recruited more than 50 volunteers, and raised over $60,000.
"We are extremely proud that our students stepped up for the community and showcased the importance of international education in Australia and the remarkable things they bring to our society," says Benjamin Poveda-Alfonso, Kindness Shake Co-founder.
Empowering the world's farmers through innovative tech
The COVID pandemic has affected everyone, but some groups have been hit especially hard. Owing to dramatic changes to supply chains, many farmers and agribusinesses worldwide were suddenly unable to sell their produce to existing buyers. Queensland-based global tech company AgUnity quickly realised that this could have devastating impacts on rural communities and some of the world's most marginalised people.
AgUnity helps empower farmers and remote communities worldwide through digital products including an app that allows farmers to track sales of their products, and connect with essential services.
In response to the pandemic, AgUnity launched subsidiary AgUnity Response. This subsidiary created a digital marketplace that links famers and co-ops to international buyers while providing contactless transactions.
AgUnity has since won two high-profile awards for its innovative business pivot and has been engaged on projects by governments and businesses around the world. These include a UK-led program in Uganda where AgUnity will support eight agribusinesses and 100,000 smallholder farmers affected by COVID-19. "
We decided that if there was a chance we could help small farmers in emerging markets continue to earn an income, and avoid financial hardship or worse, we were morally compelled to do so," says David Davies, Chief Executive Officer and Founder.
"We are proud of the decision we took as a team to pivot towards the challenges presented by COVID-19, rather than shy away from them."