Lord Marland
chairman
CWEIC
Lord Marland is the Chairman of the Commonwealth Enterprise and Investment Council.
Lord Marland was the Prime Minister's Trade Envoy and Chairman of the UK Trade & Investment Business Ambassador Network between 2011 and January 2014.
Lord Marland was made a Minister for the Department of Energy and Climate Change in 2010 and subsequently became Minister for Intellectual Property at the Department for Business, Innovation and Skills in 2012.
In recognition of his longstanding contributions to the advancement of commercial and bilateral relations with Malta, he was honoured with the Maltese Order of Merit in 2015.
He was one of the founding directors of Jardine Lloyd Thompson Plc, a multinational insurance business, where he led the acquisitions of: Janspeed Ltd (automotive engineering and manufacturing), Hunter Boot Ltd, Insurance Capital Partners, Jubilee Insurance Ltd, WH Ireland Ltd (stockbroker), BSpoke Insurance Group Ltd, and Wisden Cricketer Ltd.
He continues his active involvement in the business world, and currently serves as the Chairman at both Bspoke Insurance Group Ltd and EcoWorld Management and Advisory Services (UK) Ltd. Additionally, he is a member of the Investment Advisory Committee of the Kuwait Investment Authority.
Lord Marland frequently provides commentary on British Politics. Throughout his 17 years as a Conservative Peer, he has gained first-hand insight into the knowledge and expertise of House of Lords members. To shed light on this extensive and diverse experience, he initiated the Peer Review Podcast, featuring interviews with a curated selection of Peers.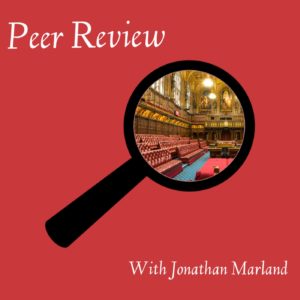 To listen to the Peer Review Podcast click here: https://many.bio/peerreviewpod.
He is a strong supporter of the arts, and is a Fellow of the Royal Society of Arts. In December 2021, the Prime Minister appointed Lord Marland as a Trustee of the British Museum. Additionally, he is the Chairman of Tickets for Troops and Trustee of the Winston Churchill Society UK, where he previously served as Chairman. He is a Founding Trustee of the Atlantic Partnership and Patron of Salisbury and South Wiltshire Cricket.
He was the President of The Commonwealth Youth Orchestra and Choir, and served as Chairman and Trustee for the Guggenheim UK Charitable Trust for 20 years.