News
Prime Minister of Bangladesh, H.E. Sheikh Hasina, MP officially inaugurates the Commonwealth Trade and Investment Forum in Dhaka
News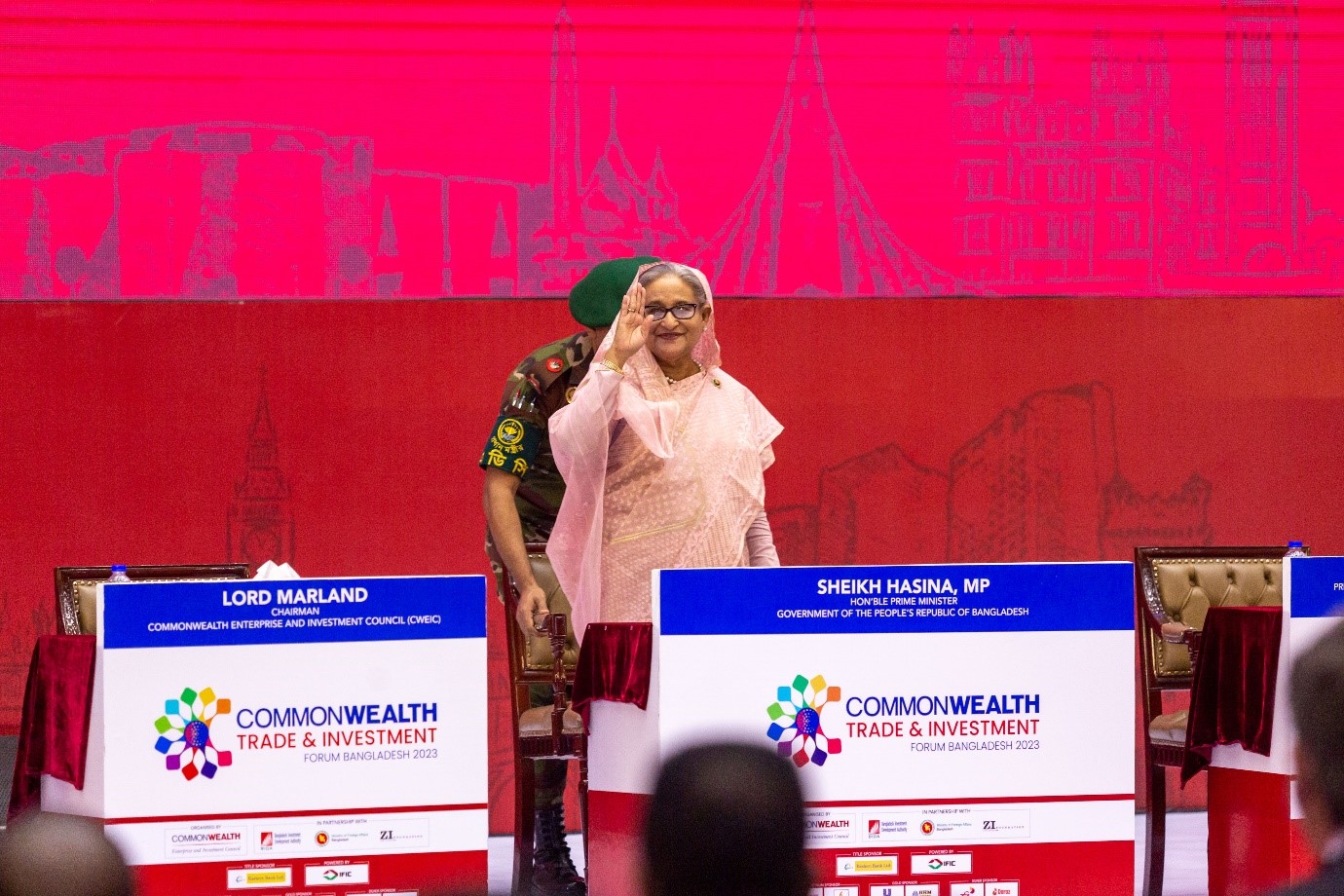 On the 13th and 14th of September, 300 delegates from 30 Commonwealth countries and beyond came together in Dhaka for the 1st Commonwealth Trade and Investment Forum.
Organised by the Commonwealth Enterprise and Investment Council (CWEIC) in partnership with the Bangladesh Investment Development Authority (BIDA), Ministry of Foreign Affairs and ZI Foundation, and under the leadership of Mr Salman F Rahman, CTIF showcased opportunities for greater trade and investment links between the Commonwealth and Bangladesh.
The Commonwealth Trade and Investment Forum (CTIF) was formally inaugurated at the Bangabandhu International Conference Center by Her Excellency Sheikh Hasina, MP, the Honourable Prime Minister of the People's Republic of Bangladesh. The Prime Minister expressed her joy in welcoming a strong Commonwealth delegation and emphasised Bangladesh's crucial contribution to promoting trade and investment within the Commonwealth. Commenting on Bangladesh's investment and trade capabilities, the Prime Minister said: "We are trying to sign FTAs with various countries, which, we believe, will make the business and investment environment in Bangladesh even more comfortable in the future."
"We need more high-quality and sustainable investment to accelerate the economic progress of Bangladesh," she added.
Sheikh Hasina also highlighted that as a fundamental component of investment promotion, her government has placed a strong emphasis on instituting organisational reforms, establishing bodies like the Bangladesh Investment Development Authority (BIDA) and the Bangladesh Economic Zones Authority (BEZA). These entities provide enticing incentives for investors and ensure comprehensive post-investment services.
In his opening remarks, Lord Marland, Chairman of CWEIC, discussed the remarkable expansion of Bangladesh's economy and the opportunities for further growth within the Commonwealth, emphasising, "Bangladesh has proven its excellence in apparel export in the world. Countries under the Commonwealth platform can follow the best practices in the sector. We want to connect every dot of possibilities through the Commonwealth, home to 2.5 billion people which includes both advanced economies and developing countries".
The Bangladesh Foreign Minister, Dr AK Abdul Momen, BIDA Executive Chairman, Mr Lokman Hossain Miah and Strategic Advisor for CWEIC, Mr Zillur Hussain, among others, also spoke.
During the opening ceremony, the "Commonwealth-Bangladesh Bangabandhu Green Investment Award," established in 2022 to encourage sustainable and environmentally friendly investments, was presented. Eco Brixs, based in Uganda, was the recipient of this award, and their Chief Technology Officer received the award from the Prime Minister, who expressed her optimism that this award would serve as a significant catalyst for promoting eco-friendly investments across Commonwealth nations.
CWEIC would like to thank Mr Zillur Hussain MBE, Chairman of the ZI Foundation and Strategic Advisor for CWEIC, without whom this project would not have been possible. Mr. Hussain's leadership has been instrumental in the establishment of the Hub Office in Dhaka; he has also been a proactive advocate of the opportunities in Bangladesh, ultimately leading to the decision to host the Commonwealth Trade and Investment Forum in Dhaka.