News
Standard Chartered Launch Report: The $50 Trillion Question
News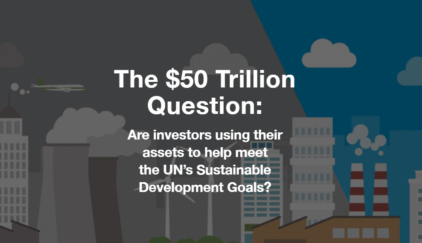 The $50 Trillion Question: UN Sustainable Development Goals face critical investment shortfall, research from CWEIC Strategic Partner Standard Chartered finds.
A survey conducted between July and August 2020, amongst a panel of the world's top 300 investment firms with total assets under management (AUM) of more than USD50 trillion*, found that:
20 per cent are unaware of the UN's Sustainable Development Goals (SDGs)
Only 13 per cent of their USD50 trillion of investment is linked to the SDGs
64 per cent of their AUM is invested in Europe and North America, with only 5 per cent in Middle East and Africa combined, even though investors say emerging-market investments outperform
Lack of investment in emerging markets puts the chances of meeting the 2030 SDG deadline at risk
The UN Sustainable Development Goals (SDGs) are not getting the investment needed to help the world meet critical targets for combatting challenges such as poverty and climate change by 2030, new research from Standard Chartered has revealed.
The $50 Trillion Question investigates how some of the world's largest asset managers – with a combined USD50 trillion in assets under management (AUM) – are investing at this critical time for the global economy and the environment.
The $50 Trillion Question study follows the publication of Opportunity2030: The Standard Chartered SDG Investment Map which first revealed the multi trillion-dollar opportunity for private-sector investors to help achieve the SDGs in emerging markets.
You can read the full Standard Chartered $50 Trillion Question report here.