News
The Islands Bringing Blockchain to the Commonwealth
News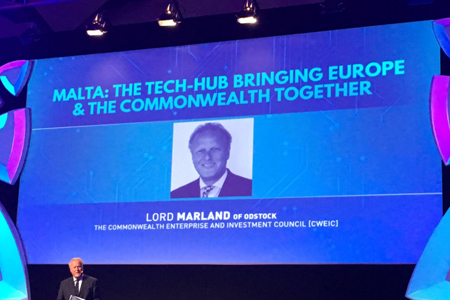 The Commonwealth is rich in its geographic diversity; from the densely populated megacities in India to the remote island states in the Caribbean and South Pacific, a common language and heritage underpins a foundational connection of all 53 Commonwealth countries.
With geographic diversity comes economic diversity, and whilst the largest and most developed Commonwealth economies typically draw more international interest in terms of their trade and investment offerings, a cohort of island and overseas territories (OTs) are cementing their place on the economic stage in an unlikely sector.
Islands such as Malta, Jersey and Bermuda may not first come to mind when considering countries the forefront of fintech regulation, yet due to the size of their populations and economies, and the speed at which regulation can be tested, these countries are becoming established and desirable destinations for fintech companies.
Smaller economies lend themselves to being test beds or 'sandboxes' for new regulation. A smaller economy generally equals a less complex one – meaning that establishing new regulatory models is far less disruptive to ongoing economic activity, and will have much more containable effects. "Small ships can turn quickly" said Premier of Bermuda David Burt in a recent interview about the island's growing tech sector, and this seems the perfect metaphor for why so many small states are focusing their economic attention on fintech.
A great example of this is Malta, a Commonwealth and island state that has recently made headlines by passing three key pieces of legislation to help establish itself as a leader in crypto-regulation. These three bills established the regulatory framework for blockchain, cryptocurrency and distributed ledger technology, making it the first country in the world to provide an official set of regulations for these technologies.
Two more pieces of regulation are set to be announced in the run up to Malta's 'Delta Summit', which hosted 5,000 delegates are attending this week to showcase the island's very favourable legislative offering, and future-facing attitude.
Opened by Prime Minister Joseph Muscat, the Summit convened some of the brightest and best tech innovators, alongside leaders from government, business and science. CWEIC Chairman Lord Marland took center stage on the opening day, speaking of Malta as an important hub for at the spear head of fintech regulation, which occupies an uncommon position as both a member of the European Union, and the Commonwealth; a position shared only by Cyprus and the UK.
Malta is not the only one occupying the fintech space in the wider context of the Commonwealth however. In Gibraltar for example, an overseas territory, the introduction of the DLT regulation has already led to 38 companies applying for a license to operate out of the territory.
Developments such as these, alongside the Commonwealth Cyber Declaration announced in April, show a strong appetite for fintech to take a more prominent role in the development of trade and investment in the Commonwealth. Island states have historically been associated with wealth management and fund services, however the unrivaled parameters under which fintech companies are increasingly able to operate under may well usher in an island tech revolution in the Commonwealth.