News
Twenty14 Holdings and LuLu Group International Inaugurate the Great Scotland Yard Hotel in London
News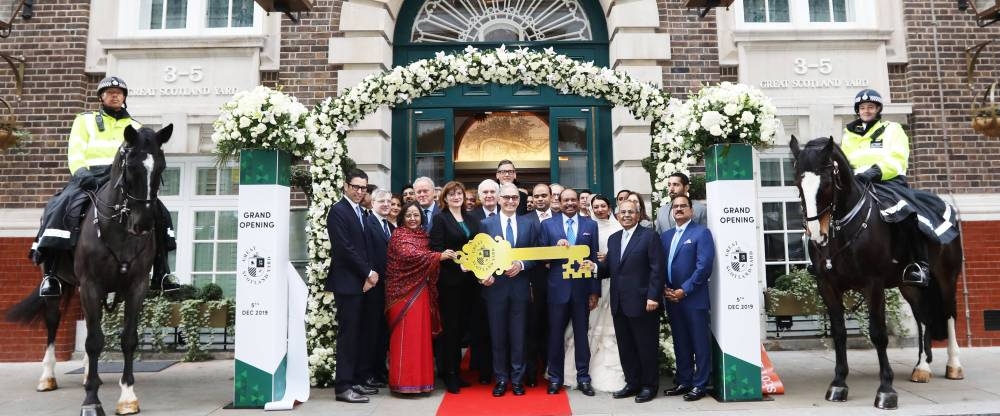 CWEIC Strategic Partners, Twenty14 Holdings, the hospitality investment arm of UAE-based LuLu Group International, have completed a £300 million investment in the UK, with the inauguration of the Great Scotland Yard Hotel in London.
The Great Scotland Yard was officially inaugurated by Nicky Morgan, Secretary of State, Sir Edward Lister, Prime Minister Boris Johnson's Chief Strategic Adviser, Mansoor Abulhoul, UAE Ambassador to Britain, Mark Hoplamazian, Global President & CEO, Hyatt Hotels and Lord Marland, Chairman of the Commonwealth Enteprrise and Investment Council, in the presence of Yusuffali M A, Chairman of Lulu Group and Adeeb Ahmed, Managing Director of Twenty14 Holdings in London.
Steeped in history, The Great Scotland Yard was once a dwelling for visiting Kings of Scotland during the Tudor period, while today the building is most famous as the former headquarters of the London Metropolitan Police force.
Speaking about the project, Yusuff Ali said: "London is one of the world's greatest cities and the Great Scotland Yard Hotel represents its illustrious past as well as its modern significance. The hotel spotlights the city's vibrant history, its several celebrated aspects and its status as a global melting pot. In essence, we have curated an unmatched experience for every guest while recreating the historic premises into a symbol of ultimate hospitality. We welcome you to experience this unique and fabulous experience at the Great Scotland Yard."
Adeeb Ahamed, Managing Director, Twenty14 Holdings, said "The Great Scotland Yard Hotel is a dream come true for us. The culmination of a path set long ago. Transforming one of the world's most historic addresses into an icon of modern hospitality. Twenty14 Holdings' focus remained steady right through, keeping the building's reputation in mind, every effort made in its rebirth had to be extraordinary, beyond expectations. And, this is what has been accomplished. The Great Scotland Yard Hotel invites you to experience its myriad stories."