News
Lagos Free Zone awarded Industrial Champion by Global Free Zones of the Year 2023 Awards
News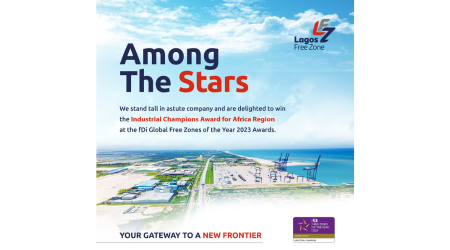 CWEIC Strategic Partner, Lagos Free Zone, has been awarded "Industrial Champion" for the Africa Region by fDi Intelligence's flagship Global Free Zones of the Year awards. 
The 'Industrial Champions' category crowns the world's best zones for manufacturing facilities. Lagos Free Zone is the inaugural winner of Africa's "Industrial Champion" category, which recognises the region's leading SEZ for manufacturing
The award acknowledges LFZ for its outstanding industrial ecosystem, established as a Special Economic Zone for manufacturing in Africa. According to the special report published by fDi Intelligence, which identifies the top global free zones for foreign direct investment (FDI), LFZ was named the inaugural champion in Africa's industrial category. This recognition is attributed to its seamless integration with a deep-sea port that handles container vessels from various corners of the world, thereby opening up fresh avenues for manufacturers seeking to export their products.
In his remarks, the CEO of Lagos Free Zone, Dinesh Rathi described the award as a testament to the commitment of the promoters to attract global manufacturers by providing a world-class industrial ecosystem and thereby create employment opportunities for Nigerians.
Rathi noted that the company is extremely delighted at the recognition and would continue to take giant steps that would attract both local and foreign investments in the manufacturing sector.
Founded in 2012, Lagos Free Zone (LFZ) is a distinctive and acclaimed port-based industrial zone spanning 850 hectares in Lagos, Nigeria. It has attracted over USD 2.5 billion in committed Foreign Direct Investment (FDI) projects thus far. LFZ is under the ownership and promotion of Tolaram and is strategically situated in Lekki, the burgeoning development corridor in Lagos. LFZ aspires to become the premier industrial hub in West Africa, boasting world-class infrastructure and hosting renowned global brands such as BASF, Kellogg's, Colgate, Arla, Dufil, and Lekki Port, among others, as its current occupants.
For more information about Lagos Free Zone, please visit: https://www.lagosfreezone.com